With so many C6 Corvette performance upgrades out there, you probably don't know how to choose the right one.
Don't worry, though. We get it asked —  a lot. What upgrade should I get for my car?
Here in this article, we've done our best to gather the best upgrades for the C6 Corvette and why you should consider getting them for your car.
So, ready to know more about them? Then let's first learn more about upgrades and what they can do.
What are Performance Upgrades for C6 Corvette?
Performance upgrades are vital for getting more power out of your engine. Without them, your C6 Corvette will never reach its true potential.
For instance, you could go for a cold air intake and increase your horsepower and engine noise.
On the other hand, you could get a better exhaust system to improve both your performance and your car's noise.
How Do Performance Upgrade Kits Improve the Performance of C6 Corvette?
Supercharger upgrade kit — this is one of the easiest, although expensive ways, to increase your vehicle's performance. This happens as the supercharger increases the air going into the engine, increasing your performance.
Twin-turbo kit — another turbo you can get to improve performance is the twin-turbo. This type of turbo severely reduces turbo lag, making it perfect for a performance upgrade.
Which Component Upgrades Boost the Performance?
Cold air intake — the C6 Corvette is one kind, but the air intake is pretty restrictive and must be replaced if you want to make more power. Thus, get a cold air intake to increase airflow.
Supercharger — for even more horsepower, consider getting a supercharger. This is the most well-known method to increase HP.
Throttle body — a bigger throttle body, combined with an induction system upgrade is an excellent addition to make your vehicle faster.
Programming tuner — getting a tuner doesn't do too much if you haven't installed other mods. At most, it'll make the throttle's response better, but if you get a cold air intake, you'll notice the HP boost.
C6 Corvette Performance Upgrades Kits
We extensively reviewed countless C6 Corvette performance upgrades and then broke them down into an extensive list, including explaining why they are worthy of an upgrade. Ready to know more? Well, take a look:
Cold Air Intake
How does cold air intake improve performance?
After installing an aftermarket cold air intake, you will eliminate all those restrictions imposed by the stock part.
This is done by flowing as much air as possible into the engine, improving your overall performance.
While the difference is not something to write home about, you're still getting a considerable boost.
Which improvement you will look after the installation
While some drivers might argue that intakes are purely a sound upgrade, you're still getting a horsepower boost after installing one.
Still, in many cases, you should gain anywhere from 5HP to 10HP.
As long as you don't get a cheap one, you should notice some performance boost. If you want to know more about cold air intakes, check this video out:
Our Recommended 3 Cold Air Intakes
1. K&N 63-3073 Cold Air Intake
It's easy to assume that a cold air intake won't improve your performance, but despite that, the K&N cold air intake is one of the best c6 corvette performance parts.  
This model is specially designed to improve your performance when towing by enhancing the car's throttle response.
This model is easy to clean since it only needs to be cleaned after 100,000 miles.
Finally, this cold air intake drastically improves airflow compared to the stock one. For instance, it will strengthen your airflow up to 50%.
2. Vararam VR-SC1R Cold Air Intake
A cold air intake is an easy, affordable swap that can drastically improve your car's performance.
And that's why the Vararam cold air intake is a top-rated option.
After installing this cold air intake, you should notice a massive increase in horsepower.
In many cases, this boost can go anywhere from 7 to 10 HP. And you don't need a tuner to notice the gains.
Since this is a cold air intake, it will improve your fuel economy. So, it'll save you some money in the long run.
Finally, the installation process is quite simple and barely takes any time.
3. Airaid 251-230 Cold Air Intake
The cold air intake is designed to maximize your engine's efficiency and power. This is achieved by improving airflow and the throttle's response.
Cleaning this air filter is more than enough to get this bad boy back on the road, meaning it is an excellent choice for those who want to save money.
Moreover, this model will also save you some money as it boosts your fuel economy.
It's easy to install, and you don't need hundreds of tools. Essential home tools should be more than enough.
And last but not least, this cold air intake includes a dry filter media, which screens out contaminants, keeping the engine clean.
Exhaust System
How does an exhaust system improve C6 Corvette performance?
If you've done some research about exhaust systems, you probably know the stock exhaust has many restrictions, ultimately reducing your horsepower.
Upon doing research, you might also find that replacing the muffler could make more power.
However, this is not enough to delete all the restrictions imposed by the stock exhaust. Instead, get a new stock system to make more horsepower.
Which improvement you will look after the installation
Finding out how much power you'll get after replacing your stock exhaust system heavily depends on the vehicle and engine.
For instance, the headers and the cat on some cars can be more restrictive than the exhaust itself.
But for the C6 Corvette, you should be looking at 10-20 gains. But for more power, we suggest tuning the engine.
Finally, replacing the stock exhaust will make your car sound louder. Take a look at this video for more details:
Top 3 Exhaust System for Performance Upgrade
1. Borla 140039 Exhaust System
Our favorite choice for an exhaust system is this model from Borla. This model is made of stainless steel, providing an excellent system against corrosion.
Unlike other exhaust systems, this model uses straight-through technology to make more horsepower.
Installing it is a bit more complicated than swapping spark plugs, but it'll drastically increase your exhaust's noise.
This exhaust system is cut at an angle, delivering a beautifully rounded exhaust tip rather than an ugly and outdated straight exhaust tip.
Finally, its gorgeous design makes it stand out from other aftermarket competitors.
2. Corsa 14169 Exhaust System
Up next, we have this fantastic exhaust system from Corsa for anyone looking to upgrade their old exhaust system.
Featuring a polished stainless-steel build, this model is perfect for preventing corrosion over time.
Also, it is equipped with a dual-walled system, which will drop the temperature as you're going down the road.
After the installation, the exhaust system will significantly increase your exhaust's noise when the vehicle is idle.
Not only does it make your C6 Corvette sound louder, but it's also designed to make more power.
This is thanks to its flexible design, which allows the engine to perform better.
3. Hooker 70401312-RHKR Exhaust System
Still having trouble choosing an exhaust system? Then consider getting this powerful model from Hooker.
This mind-blowing exhaust system is made of polished stainless steel, making it incredibly durable.
Installing an exhaust system is no joke, but this model makes it relatively easy compared to other choices we've reviewed.
In addition to that, this is one of the noisiest exhaust systems we've found. 
Apart from that, we love the design and believe it's an excellent exhaust to enhance your vehicle.
And last but not least, this exhaust system will completely delete all the annoying drone noise.
• Programming Tuner
How does a tuner upgrade performance?
Simply put, a tuner is designed to maximize your car's engine performance.
By using the computer, you can modify your vehicle to get more power.
However, keep in mind that a tuner alone won't improve your horsepower significantly.
Your vehicle will feel more responsive, but you won't gain any horsepower where your engine performs best.
Instead, it will optimize engine performance where you would otherwise not gain any power.
But if you have a cold air intake and cat-back exhaust, then you should notice some improvement.
Which improvement will you look after the installation?
Back in the day, you had to take the vehicle to a professional and then have it tuned. Nowadays, you can get a chip tuner, plug it in, and you're good to go.
Most drivers get performance chips to increase horsepower and torque. But a tuner can also increase your throttle's response and MPG.
Apart from that, the tuner will allow you to see what it's doing behind the scenes. Finally, your tuner will also give you more torque for towing.
2 Programmer Tuners Recommendations
1. Superchips SPC-2845 Tuners
C6 corvette performance mods can be a great way to have some fun while driving and make your car feel better.
That said, consider getting this excellent tuner from Superchips.
This tuner's most attractive feature is the throttle response. After installing it, the mod will improve your throttle's response, which translates to more HP.
A quick look at the screen allows users to view and clear codes, making it easier to find what's wrong with the car.
Besides, if you're going up a hill, the tuner will eliminate downshifting, providing more stability when driving.
Keeping the tuner up to date is also easy as you can connect it to the internet and then download any software updates.
2. DiabloSport 9245 Programmer Tuner
If you're not satisfied with our previous tuner, then let Diablo do all the work for you.
This tuner features a touchscreen, which allows users to swipe left and right. And it has a beginner-friendly user interface.
Better yet, this tuner is designed to increase your horsepower. While this is not a huge boost, it's still noticeable enough.
Apart from that, installing this tuner is pretty simple and can be done by most people.
And finally, this tuner also includes many gauges, which allows the user to monitor the vehicle.
Throttle Body Upgrades
How throttle body improves c6 engine performance?
The stock throttle body is pretty restrictive. This means the engine is not pulling in enough air, holding you back from getting more horsepower.
However, by replacing your throttle body with a big one, you'd allow the engine to breathe more as it's pulling in more air, ultimately giving the engine a massive boost.
But keep in mind that HP gains heavily depend on other modifications.
Which improvement will you experience after the installation?
Drivers often underestimate the throttle body, but in reality, getting a bigger throttle body can increase your horsepower.
If you choose to replace the stock throttle body, it'll smooth out your vehicle, and you should gain 10 horsepower.
But remember, your gains will heavily depend on other modifications. A bigger throttle body alone is not enough to make your car noticeably faster.   
2 Throttle Body Improvements to Consider
1. BBK 1790 Throttle Body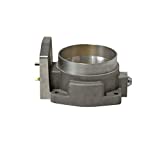 Want to get rid of the annoying and restrictive stock throttle body? Then the BBK throttle body is an excellent investment.
Providing an excellent and clean design, this throttle body is designed to increase airflow to increase horsepower.
Installing this throttle body is a walk in the park. It does not require any special tools other than some household tools, which you probably have.
If you got any of the upgrades above, consider getting this one as well since it'll make more power than before.
To top it off, this throttle body is more resistant than the OEM one, providing a trouble-free experience for many years to come.
2. Superfastracing 12605109 Throttle Body
A throttle body can increase your engine's performance, but the stock one isn't good enough for this job.
So, get this powerful throttle body from Superfastracing.
This throttle body is made of billet aluminum—although cheaper than steel to keep the cost down, it'll last you for quite some time.
Furthermore, this model is strictly designed to improve your airflow to generate more horsepower.
Installing this one is super easy. You don't need to disassemble the old one, but you do have to tune the vehicle for it to work.
That said, if you're looking to gain more HP and save some cash, this is an excellent investment.
Supercharger Kits
How does a supercharger kit help your Corvette C6?
A supercharger will get rid of all those restrictions and let the engine pull in more air. When this happens, the motor can burn more fuel.
This, in practice, translates to more horsepower. Finally, the supercharger also creates the legendary engine sound, also known as the fluttering.
Which improvement will you look after the installation?
C6 Corvette engine dress up kits, like Superchargers, are designed to flow more air into the engine, generating more horsepower.
This is the most significant advantage of getting a supercharger. In short, it'll make your car faster when going down the road.
Another attractive advantage is that it does not have lag, unlike the turbocharger.
This is a vast benefit as you won't feel any delay when driving. And, if you're into racing, you'll love just how loud the car is after installing a supercharger.  
2 Supercharger Kits You Can't Miss
1. MaXpeedingrods XJ71 Supercharger Kit
Boost and attack the streets with this powerful supercharger kit from Maxpeedingrods. When it comes to performance, you're not going to find that elsewhere.
This bad boy can increase your BPH all the way up to 600, making it one of the most efficient superchargers out there.
But keep in mind that this kit performs best on all 3.0L-6.0L engines. 
Installing this kit is a breeze since they've included everything for the assembly. That way, drivers will not waste any time setting it up.
Lastly, this kit comes with various valuable things, including an exhaust downpipe, exhaust turbo manifold, and a wastegate.
2. Phab 0055CHEVTTKITls1 Turbocharger Kit
Ready to get your engine screaming as you're going down the road? Well, get the Phab turbocharger kit.
Unlike the previous turbo we covered, this is a twin-turbo, meaning it'll reduce any turbo lag you might experience.
In terms of durability, this kit is on the high end of the spectrum compared to other models. For instance, the tubes and headers are all made of stainless steel, making them super durable against corrosion.
And last but not least, this turbocharger kit will increase your airflow, leading to more performance.
• Long Tube Headers
How does a long tube header enhance your C6 Corvette?
Long tube headers are designed to make up for the lack of horsepower. Long tube headers result in lower exhaust backpressure. This translates to more air and horsepower.
However, they are not legal in many places, and if your state does an emission inspection, you won't be able to pass. Instead, you might have to get short tube headers.
Which improvement will you look after the installation?
Long tube headers are pretty hard to install since they take a lot of room, resulting in costly reconfigurations.
Still, getting a long tube header will make your vehicle louder and if you're trying to increase your horsepower.
As to how much HP you should expect to gain after installing one, this depends on other upgrades you've installed. But in many cases, expect to gain 10-15 HP.
Top 2 Long-Tube Headers for C6 Corvette
1. Hooker 70101317-RHKR Long Tube Header
Long tube headers have long been the go-to for most drivers, and this one is no exception.
This model's superior flow characteristics are partially why we chose the Hooker long tube header over other competitors.
In terms of durability, this one will give you the most bang for your buck.
For instance, this model boasts a gorgeous stainless-steel build.
And while other models are challenging to install, this one couldn't be easier. As long as you got some spare time, you'll pull it off.
And to top it off, this long tube header will promote better velocity and exhaust scavenging for a much optimal driving experience.
2. Flowtech 11148FLT Long Tube Headers
If your car is really quiet and can't figure out how to make it louder, then get these long tube headers from Flowtech.
Like our previous model, this one is also made of stainless steel, and it's corrosion-resistant.
Thanks to its design, the assembly process is easy since it matches the stock mounting points.
Moreover, the header flange is pretty thick, allowing the headers to be tightly sealed.
Better yet, this model is made to last thanks to the heavy-duty build. So, it'll be by your side for many years.
Super Conductor Spark Plug
How to get the most out of a super conductor spark plug?
New spark plugs will increase your performance, but it's not like you'll get a 100% boost after changing your spark plugs.
In many cases, you will get 2% to 3% gains. At most, your vehicle will go back to its peak form.
That said, remember that spark plugs are an essential part of your vehicle and should be changed according to your owner's manual.
Which improvement should you look for after installation?
Spark plugs won't make your vehicle faster. But if they got damaged, you would notice some improvement after getting new ones.
However, don't expect too much from them.
Remember, spark plugs are in charge of igniting the air and fuel mixture.
If you want to get more potency out of them, consider getting a better exhaust system and a cold air intake.
2 Super Conductor Spark Plugs that are Worth It
1. ACDelco Super Conductor Spark Plugs
We all know platinum spark plugs are not as reliable as iridium plugs. So, if you're in the market for one of those, the plugs from ACDelco are your best bet.
These iridium-tipped spark plugs are specifically designed to decrease carbon deposit, reducing the odds of corrosion. And since they are corrosion resistant, they won't get stuck inside the cylinder.
Moreover, these spark plugs keep combustion gasses where they are supposed to be, ultimately preventing combustion leakage over time.
And thanks to their superior suppressor seal, they are perfect for blocking radio frequencies.
2. MSD 32819 Spark Plugs
High-performance spark plugs are designed to last for a long time. And that's exactly what you get with this set from MSD.
These plugs have a ferromagnetic core right out of the box, making them perfect for EMI choke.
Apart from that, the terminals are corrosion-resistant since they are made of stainless steel.
Better yet, these spark plugs can also resist lots of heat and still remain in great shape.
Another cool feature is that they use a copper alloy conductor, giving them a resistance of 40 to 50 ohms. And last but not least, they are pretty easy to install.
How Much it Cost on Average to Upgrade the Performance of C6 Corvette?
For a brand-new cold air intake, you should expect to pay anywhere from $400 to $611.
On the other hand, exhaust systems can be more expensive as they cost $1,240 on average.
Tuners can also be expensive. For instance, the average cost is about $1,000.
As for a bigger throttle body, expect to pay $299 for an upgrade.
At the other end of the spectrum, a supercharger kit can cost a whopping $855.
Long tube headers can be somewhat expensive. On average, they cost $856.
Finally, a set of high-performance spark plugs can cost $74.
Frequently Asked Questions (FAQs)
That sure was a lot of information, so you probably have some questions. That said, check this section out to clear up some doubts:
Can exhaust system improve performance?
Yes, getting an aftermarket exhaust system will improve your performance. Getting a new one will open up the exhaust system, allowing more air to increase your car's performance.
How much HP does a supercharger add?
Absolutely, a supercharger will pep up your vehicle. If done correctly, you can get 40-80 horsepower gains.
Will adding a supercharger hurt my engine?
No, adding a supercharger will not damage your vehicle's engine. As long as you take care of your vehicle, you should be fine. For instance, make sure to change the oil according to your owner's manual and spark plugs.
Is a Diablo tuner worth it?
Yes! Getting a Diablo tuner is worth the money. While they might be expensive, you get many features, including better throttle response and a clean user interface to play with the computer.
Verdict
It takes a lot of time to find suitable C6 Corvette performance upgrades. Especially if you're doing many upgrades, but after carefully going through our review guide, you should be able to confidently get the best ones.
As a side note, keep in mind that some upgrades might require other aftermarket parts for better results.